Posted by The Fold on 27th Oct 2022
5 Features To Look For In Fine Jewellery
Here at The Fold, we believe in investing in beautifully made fashion that is designed to stand the test of time. The same principle can be applied to accessories – a beautifully crafted leather handbag or well-designed heel will deliver maximum sartorial ROI. With this in mind, we asked contemporary luxury jewellery brand Lolo & Galago (a Fold favourite) to share their fool-proof guide of five features to look for when buying fine jewellery:
1. Play with colour & style
No, we're not talking about the 4 Cs of diamonds here, colour is important in any piece you buy. Think about what you wear. If you wear a lot of black, white or neutrals, then colour or bold shapes can work well, otherwise the jewellery can get lost against the outfit. Lolo & Galago's bright and exotic Spice Trail collection is full of colour, with bold, eastern-inspired shapes picked out in pink and yellow sapphires and rose gold. Chunky, geometric shapes are striking against a simple outfit – pair a cuff with a little black dress and wait for the compliments to roll in…And while the design is more delicate, their Fine Jewellery collection showcases a range of bright diamonds, sapphires, peridot and tourmaline, which look striking against white or black.
If you prefer printed dresses and bold colour, then perhaps look for something more subtle in your jewellery. The number 8 collection evokes simplicity in smooth, organic shapes crafted in gold and silver. Unfussy yet elegant, it looks great with black or bold.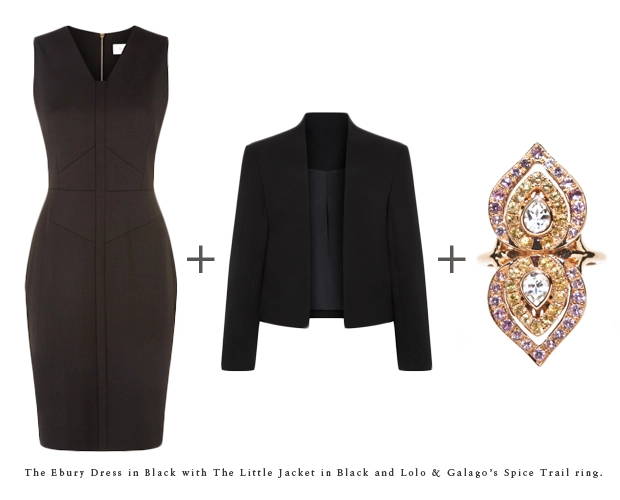 However, you don't have to stick to one look. Sometimes the most striking accessory arrangements mix & match, both the jewellery and the outfit and accessories. If you're mixing your jewellery, pick one accent that draws the pieces together. It could be colour: pairing the yellow gold and blue topaz Garden of Stones ring with the simpler gold pieces from Number 8 or Imperial and the gold and coloured gems of Fine Jewellery. It adds a dash of individuality and glamour to a simple white shirt or black dress.
Of course, mixing and matching doesn't just stop at the accessories. Who says fine jewellery is just high-fashion? Pair a casual outfit of jeans with the bold, chunky style of Imperial, or take it in a different direction with elegance and fine gemstones of Autumnal. It's all about what you want to say with your outfit.
That said, sometimes, less is more. Pick carefully. Coco Chanel famously said: "Before leaving the house, a lady should stop, look in the mirror, and remove one piece of jewellery." And even though we love our gems, we think she's right. One statement piece can say so much more than a cacophony of colours and patterns.
3. Your jewellery should match you
It's all very well having the perfect piece for the perfect outfit, but is it perfectly you? Long necklaces should be tried for size so they don't make your neck look short; big, bold chunky jewellery can either enhance or drown a small frame; and the metal you choose should complement your skin tone. Gold tones tend to suit everyone, although it can look better on those with a warmer skin tone, while silver, platinum and white gold really light up cooler toned faces.
4. Dress for the occasion
Think about the occasion you are dressing for. An edgy cuff might not be most appropriate for a meeting with the board of a bank. A delicate pearl necklace won't fit at a festival. Are you opting for the classics: pearls, stud earrings, delicate chain and pendant necklaces; or are you thinking big: chandelier earrings, layered rings, big, bold stones and cuff bracelets?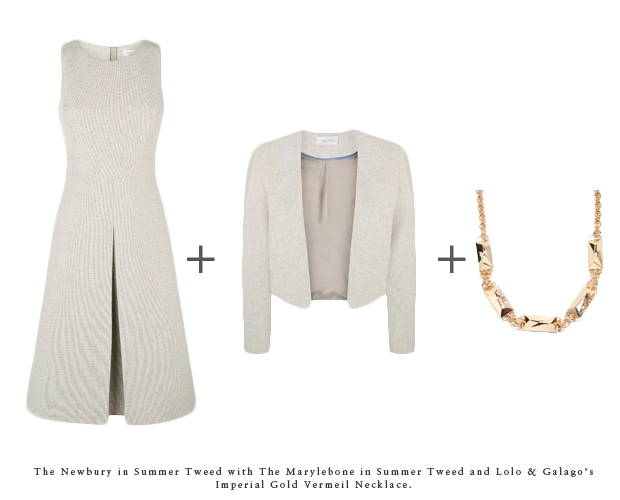 5. Check the craftsmanship
Last, but by no means least, craftsmanship. Fine jewellery is a tricky thing. Without being an expert, how do you know if you are getting a piece that has been truly well-designed and made?
Check the setting. Pave settings (jewellery with a lot of small stones) should have consistently ordered stones, making a repeatable pattern, whilst the tiny beads between them should also be identical (this shows consistency), and equally spaced around the stones to prevent them from moving. However, these beads really should be tiny – the overall effect should be a constant layer of gemstones.
Claw-set stones (such as engagement rings or single stone pieces) should be equally well made. You don't want the gem to move. To prevent this, the claws should be equal thickness along the length and perfectly aligned with the contour of the stone. Prongs should be equidistant and reach a third of the height of the stone to really ensure a secure hold.
A bezel setting (wrapping around the stone) should also feel secure, with an equal thickness around the stone and a snug fit.
Next, check the quality of the metal. Hold it up to direct natural light and check for any 'pitting' or any sections where the plating is not consistent. It should also have been polished properly, this means it should be shiny everywhere, not just on the outside.
Bear these in mind next time you head out jewellery shopping and we think you'll be pleased, whatever you purchase.