Posted by hassan.c@like.digital BigCommerce on 28th Oct 2022
Hansi Momodu-Gordon, Art Curator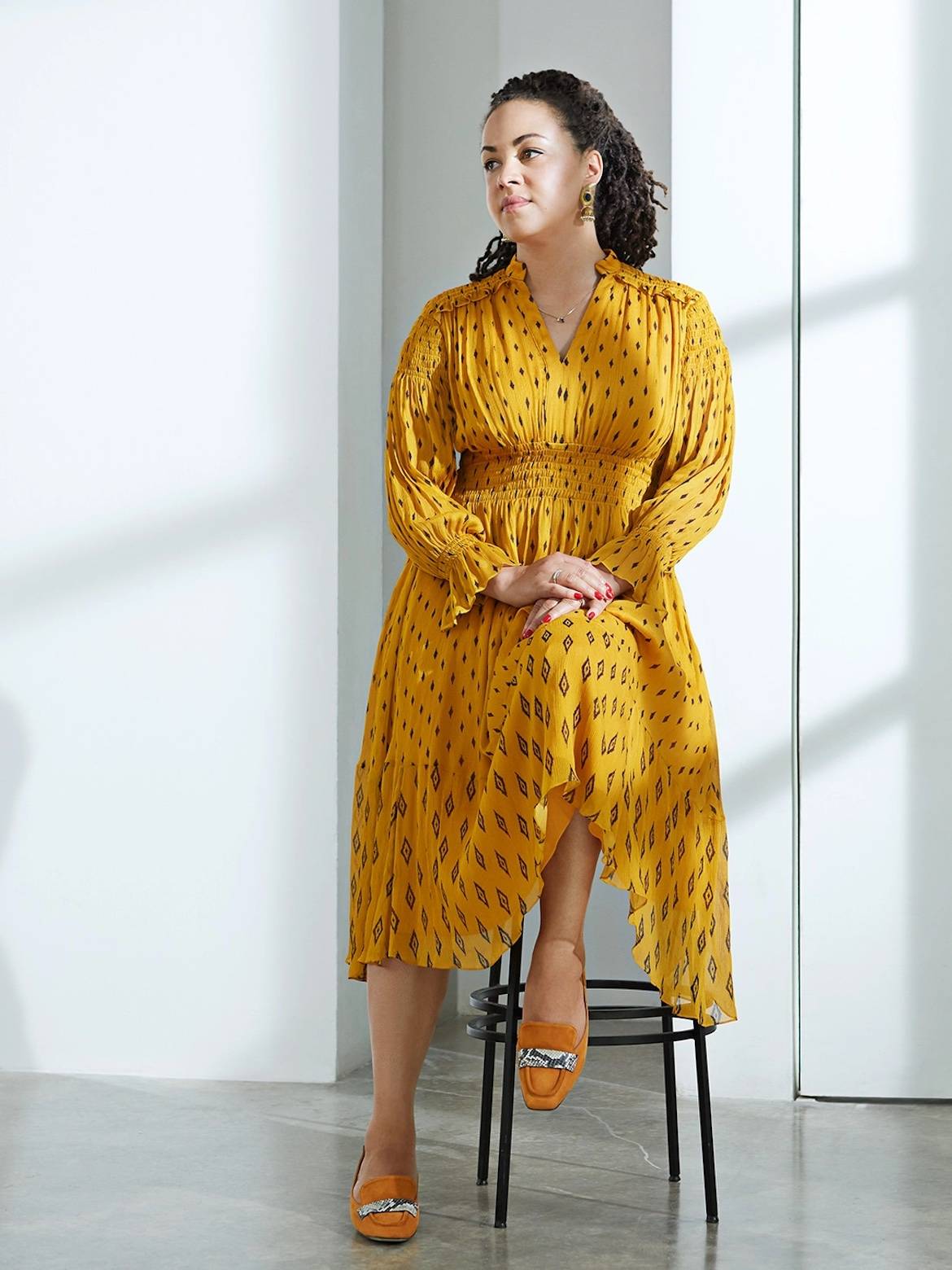 AS A SOCIETY
WE HAVE A VERY
DIFFICULT
RELATIONSHIP
WITH THE IDEA
OF SUCCESS
AS A SOCIETY WE
HAVE A VERY DIFFICULT
RELATIONSHIP WITH THE IDEA OF SUCCESS
Hansi Momodu-Gordon is a London-based curator, writer and content strategist. Founder of Future Assembly, a platform for artists' development and experimentation, Momodu-Gordon is passionate about connecting and supporting artists to thrive. With a masters in Curating Contemporary Art, from the Royal College of Art and a BA (Hons) in English Literature, Hansi sees her role as the 'storyteller', bringing to life an artist's ideas.
As an assistant curator at Tate Modern, Momodu-Gordon worked on projects with artists; Damien Hirst, Ellen Gallagher and Richard Tuttle. Recent curatorial positions include Turner Contemporary and CCA Lagos. Hansi has authored two books and published pieces for the Tate blog, Frieze and Digital Women UK.
Spending time with art and artists teaches you about the world and the human condition.
And I learn about myself, too – this is what I love about being a curator.
I knew it was time to leave my first job as a production assistant when I realised I didn't want my boss's job or her boss's job.
I decided to visit my father's family in Nigeria for the first time, which was a leap into the unknown, but it was in Lagos that I met an amazing curator who inspired and mentored my curatorial career for the next decade.
Sometimes the only transportation is a leap of faith.
Those were the words on a farewell card I was given just before leaving for Lagos and that sentiment has stayed with me ever since.
It's important to take risks, as sometimes that's when the greatest things happen.
We need to do the unexpected. I like to take calculated risks, but within a planned framework – that way, you know when you can take those risks.
On a recent research trip to Lagos, I ended up on a speedboat in a lagoon, which was really scary and felt very unsafe, but I discovered things I could never have found out on Google. Whatever it takes for art!
As a society, we have a very difficult relationship with the idea of success.
I try to take time to acknowledge small successes, which we all achieve every day. I'm trying to celebrate those and enjoy the moment, rather than put success on a pedestal and be continually preoccupied with the next challenge.
I have a lot of my ideas at the kitchen sink.
There's something about doing a monotonous task that's quite relaxing and it can help you to think. Inspiration can come when you least expect it.
I find getting dressed very emotive and, as a result, my workwear style is very eclectic.
I have to see how I feel in the morning and I always think about the situation I'm going to be in and dress to that. So, depending on whether I'm speaking to patrons or fundraisers or meeting artists, I might be feeling like a bright yellow jumper or a dress in an unusual print or fabric.
ART TEACHES YOU ABOUT THE WORLD
AND THE HUMAN CONDITION
ART TEACHES
YOU ABOUT THE
WORLD AND
THE HUMAN CONDITION
Accessories are really interesting because they are also cultural clues.
I've been lucky enough to travel widely and see how different cultures have very different types of jewellery – it's a language of its own. I like to bring back keepsakes and am obsessed with earrings – I have a very large collection.
I have two things that keep me awake at night: my twins, Isaac and Zella.
They're two now, so it's starting to get a bit easier.
The less time you spend on your own wellbeing and self-renewal, the less you can give to the world.
The more centred you become, the more you're able to give. Meditation is a good starting point for that.
I haven't ever experienced imposter syndrome.
But I still find this positive mantra very helpful: 'You are here and you deserve to be here.'
Remember, people don't think about you as much as you think they do, so don't worry about it.
They're probably just thinking about what they had for lunch. Focus on being yourself, because you are enough.